HILLARY CLINTON EMAIL SCANDAL IN ONE GRAPHIC ANALOGY The Difference Between Colin Powell Hillary Clinton And A Snail
Hillary Clinton, Former Secretary of State, decision to exclusively use private email to conduct State Department business was not unprecedented, she said, "my predecessors did the same thing", at a Democratic debate in Miami, March 9, 2016.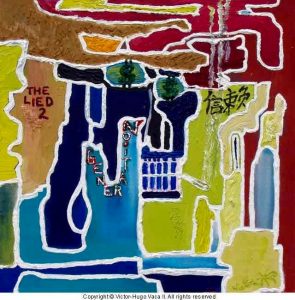 THE UNDECIDED VOTER – DONALD TRUMP VS HILLARY CLINTON
This is a misleading claim because only one prior secretary of state regularly used email, Colin Powell. Like Clinton, Powell used a personal email address. However, there's a big difference: Hillary Clinton hosted her email, containing above-top-secret National Security emails on an unprotected private server located next to her toilet in the bathroom of her home and Colin Powell did not.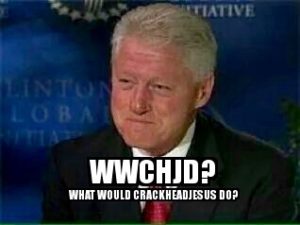 BILL CLINTON ASKS HILLARY CLINTON, "WHAT WOULD CRACKHEADJESUS DO?"
Hillary Clinton's argument would eliminate the truth that size does matter. In this case, Hillary Clinton and anyone who makes the Colin Powell argument has bigger balls than Colin Powell, since the analogy is like comparing the size of a snails penis to the size of Colin Powell's penis and deciding, which size penis, you want to get fucked with, by The Clinton-Machine.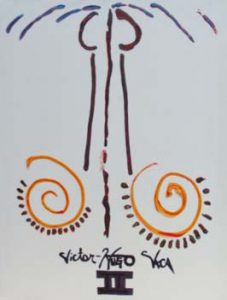 THE CLINTON EMAIL SCANDAL FOR DUMMIES
This is all very dangerous stuff, potentially treasonous, according to Rule Of Law in the United States, as noted in an FBI investigation that found gross negligence on the part of Hillary Clinton as Secretary Of State, entrusted with the safety and security of all men, women and children in America. If you know anything about military strategy and how rogue nations use National Security leaks to blackmail world leaders, you can appreciate why the Hillary Clinton email scandal is more than just about some above-top-secret-emails, purposefully erased by the Democratic Presidential Candidate and her lawyers, without permission, after being subpoenaed by Government investigators, trying to determine if any of the unprotected, above-top-secret-emails in Clinton's unauthorized personal server, were hacked by Russian, Chinese or terrorist hackers.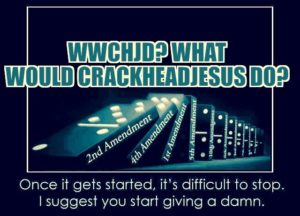 THE FIRST AMENDMENT
A person wishing to be Commander In Chief of the worlds strongest military power should know such basic principles of warfare tactics and strategy, as taught to future military officers and leaders at the world famous leadership laboratory, The United States Naval Academy, in Annapolis, Maryland. Lesson number one is: Do not keep above-top-secret-National-Intelligence and Security information of the highest level, next to your toilet bowl, at home, in an unprotected, unauthorized server, if you wish to safeguard the lives of those you lead.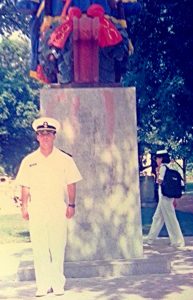 UNITED STATES NAVAL ACADEMY (USNA) MIDSHIPMAN OFFICER VICTOR-HUGO VACA II
"The health of getting your daily news and information in soundbites, is equal to getting your daily nutrition from a diet of Cheetos, Twinkies and Mountain Dew." – Victor-Hugo Vaca II