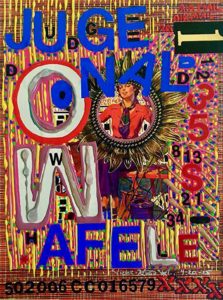 "#AlexanderConde, #AaronCohen, #Crackheadjesus, #Attorneys, #JoshDuggar, #AshleyMadison, #JudgeDonaldHafele & Repetitive #'s That Make Up The Infinite Pi In Nature: To See The Future, One Must Learn The Past; Or, How I Survived The Ashley Madison Breach." By Victor-Hugo Vaca II.
Size: 9 x 12
Date: April 20, 2015.
Medium: High gloss, mixed-media, graffiti collage, oil, acrylic, pen & ink drawing on matted paper.