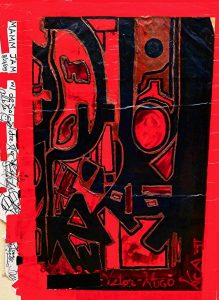 "deSol Study In Red" By Victor-Hugo Vaca II
Size: 28 x 38
Date: August 23, 2009
Medium:  oil and acrylic on architectural plans for a U.S. Veterans Hospital that failed to materialize because of fallout from the Wall Street to-big-to-fail-bank-bailout, which was a total scam on U.S. taxpayers that goes unpunished in a corrupt two-tier justice system that threatens democracy.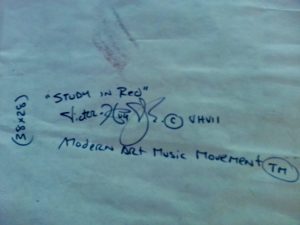 A peek behind "deSol Study In Red" By Victor-Hugo Vaca II
This work of art was created during the Modern Art Music Movement 2009 U.S. Tour, in Massachusetts, at the home of Jim Roach (JJR Productions) with deSol on a day off from touring. Jim Roach has produced or booked the following artists: BB King, Journey, Peter Frampton, Godsmack, Don Mclean, Suzanne Vega and America to name a few. The unique moment was recorded by Jim Roach. Days later, his camera broke and the footage of the intimate fireside MAMM Jam was lost.