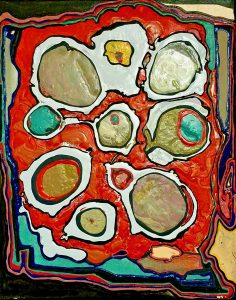 "Fuck Facebook" By Victor-Hugo Vaca II
Size: 16 x 20
Date: August 12, 2017.
Medium: Oil and acrylic on canvas.
Censorship: Free Speech and First Amendment Under Attack From Political Correctness.
IS FACEBOOK CEO MARK ZUCKERBERG RACIST? Instagram Facebook Owner Deletes Digital Footprint Of Maverick Artist Victor Hugo.
Google has shown itself publicly, to be a monopoly, under leadership that censors diversity of opinion and terminates employees for thought crimes. As Facebook expands into volatile areas in Africa, Asia, Cuba, Mexico, Central and South America, will Mark Zuckerberg decide which artists to censor in controlling cultural growth?
Authoritarian regimes cut people, like artists, out of commerce and marketplace. Evidence is mounting, that Facebook CEO, Mark Zuckerberg, is racist and leading monopolies in an effort to suppress art and cultural history, by permanently eliminating the digital footprint of college-educated Latino's and other outspoken, influential minorities on Facebook and Instagram, as the world goes digital. As digital currency like, Bitcoin, grows in popularity and usage, the swift digital death sentence of New York born, Hispanic-American, maverick artist, Victor-Hugo Vaca II, is a profound, canary-in-the-coal-mine moment, for both crypto-currency and social media, in their infancy. Will Facebook and Twitter go the way of MySpace, as a growing number of educated minorities, realize that Mark Zuckerberg can use his white privilege to silence their speech?
This bellwether may have everyone reverting to new ways of thinking and communicating, so as to outsmart censorship of information, by monopolies, run by oligarchs, seeking to control thought and influence. Victor-Hugo Vaca II was banned, permanently, from Facebook, for sharing art, deVolkskrant Headline News, and other worldwide newspaper articles, about the United States Supreme Court ruling on the censorship of offensive trademark names.
The mention of his seminal character, Crackhead Jesus, in the first paragraph of the article, has incited Facebook to censor the 5,000 friend account of the Maverick Artist Victor-Hugo. His modern-art-gonzo-journalism has been banned on the social platform before, however, this time, Facebook decided to digitally ostracize and terminate the artist's digital identity, to manipulate facts by saying, "We couldn't find anything for Victor-Hugo Vaca Jr.", in multiple languages, thereby falsely implying, that the globally recognized artist never existed in the Facebook community.
In the New World Order, being created by social media, an educated minority asks:
Is Facebook CEO, Mark Zuckerberg using censorship to social engineer cultural growth in emerging markets?
If Mark Zuckerberg terminates your digital existence through an immediate death sentence, without appeal, does it mean people will not be able to find or remember you, or does it mean, the Facebook Emperor has been unveiled and found to be wearing no clothes, so people go back to living in the real world, outside of virtual reality and fake news?
If reputation is wealth, what happens if an EMP shutdown of electronics wipes out your digital bank account and all you are left with is fading receipts from too-big-to-fail-banks?
Minorities start at the back of white privilege, where guys like Mark Zuckerberg lead the pack. Now, Zuckerberg has shown publicly, his willingness, to take out a big stick and trip any 'needy Latino's' or other minorities, at the peak of 5,000 friends, just to show everyone his place, in the social media monopoly, that he firmly controls, with his ubiquitous thought police.
Mark Zuckerberg's executives, sentenced Maverick Artist Victor-Hugo's web footprint, to a swift digital death, at the peak of the provocateur's popularity on Instagram: Days before the 2016 Presidential election, a photo of Hillary Clinton's Brother, Hugh Rodham, holding an autographed 'Crackhead Jesus is coming sticker', sitting beside the Maverick Artist Victor-Hugo, in the VIP section, of a South Beach Nightclub, was posted for public consumption. Seven minutes after the artist's digital image was made public, his account was deleted and his digital footprint, on Instagram, swiftly ceased to exist, forevermore.