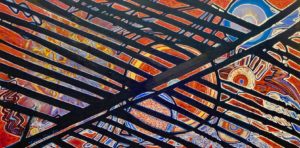 "Google Satellite." By Victor-Hugo Vaca II and Jessica Reinhardt.
Size: 24 x 48
Date: February 15, 2010
Medium: Oil and acrylic on canvas.
"Google Satellite" is a storyboard painting, for a scene in, "Redemption: The Story Of the Crackhead Jesus Trials", the modern-art graphic iNovel that inspired the award-winning film, "Crackhead Jesus: The Movie".