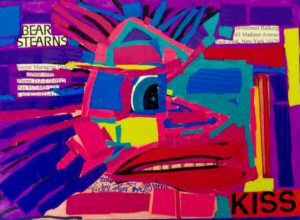 "Harambe, The Endangered Western Lowland Gorilla, Meets The Retarded Artist From NYC; Before Baby Mama #2 Loses Control Of Baby #4, While Baby Daddy #1 And Baby Mama #1, Watch Baby #1, Baby #2 And Baby #3, At The Cincinnati Zoo: Or, How The "Baby-Mama-Baby-Daddy Epidemic" Produces Confused, Narcissistic, Suicidal Children And Endangers Species." By Victor-Hugo Vaca II.
Medium: Duct Tape Adhesive Graffiti on Collectors Item Bear Stearns stationary from the desk of Senior Managing Director.
The Guinness Book Of World Records should look into whether this is the longest title for a work of art.