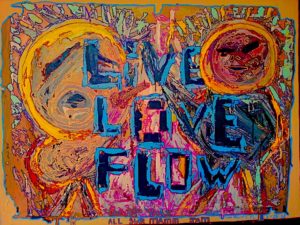 "LIVE-LOVE-FLOW" (41X56) BY THE MAVERICK ARTIST VICTOR-HUGO VACA II, CAPTURES THE UNIQUE MOMENT, WHEN RICK DERRINGER JOINED THE MODERN ART MUSIC MOVEMENT ALL-STARS, FOR A ROUSING RENDITION OF HIS CLASSIC ANTHEM, "ROCK AND ROLL HOOTCHIE KOO."
ROCK LEGEND, RICK DERRINGER, INJECTS "ROCK AND ROLL HOOCHIE KOO" INTO MONUMENTAL MODERN ART MUSIC MOVEMENT ALL-STAR MAMM JAM FEATURING MEMBERS OF AEROSMITH, BOSTON, STEELY DAN, CHEAP TRICK, THE DOOBIE BROTHERS, BELLEVUE CADILLAC, THE WAILERS, JAMES BROWN BAND, J. GEILS BAND, THE CARS, JAMES MONTGOMERY AND THE MAVERICK ARTIST VICTOR-HUGO VACA II: Stunning Performance By The McCoy's Frontman, Inspires Music Industry Icons To Produce Historic Rock And Roll Memorabilia, On Canvas, In Fort Myers, Florida.
On February 24, 2012, Rick Derringer walked into a room full of rock and roll icons gathered for rehearsal and blew everyone in sight away, with one of the most electrifying performances, any of the music industry legends had ever witnessed. The energy in the Sidney And Berne Davis Art Center, went from amazing to beyond intense, when Rick Derringer stepped on stage, grabbed the microphone and belted through a ferocious version of ,"Rock And Roll Hoochie Koo", that left everyone in the hall breathless. The remarkable moment of Rock and Roll history was captured in a 41×56, work of art titled, "Live-Love-Flow", manifested by the Maverick Artist Victor-Hugo Vaca II, who was specially selected as an intuitive artist with synesthesia, to perform with the entertainment industry All-Stars, as part of the Modern Art Music Movement™ (MAMM).
"Rock and Roll Hoochie Koo" by Rick Derringer peaked at 23 on the U.S. Billboard Hot 100. It was first released on the "Johnny Winter And" LP (1970), with Rick Derringer and the McCoys (#1 "Hang On Sloopy") backing up Johnny Winter. Derringer decided to re-record the song for his first solo single, on the 1974, "All American Boy", LP."Hoochie Koo" is short for "Hoochie Koochie," which is sexual slang popularized by Muddy Waters in his song "Hoochie Coochie Man".
Rick Derringer's clever lyrics subversively imply female genitalia and the act of copulation:
"Hope you all know what I'm talkin' about.
The way they wiggle that thing really knocks me out.
Gettin' high all the time, hope you all are too.
C'mon little pussy gonna do it to you."
Like the Maverick Artist Victor-Hugo Vaca II, Rick Derringer was raised Roman Catholic and attended a private Catholic school, for eight-years, during his youth. After a time of intense personal struggle, Rick Derringer was reborn in his faith and rewrote the lyrics to, "Rock And Roll Hoochie Koo", reflecting a less sexual and more spiritual mood:
"Couldn't stop shouting when it first took hold.
It was an awesome night at the old church hall.
There was an old time preacher he was laying it down.
Heard the word and you know I can't forget that sound.
Read the word, live it too.
Let the truth be seen in you."
Rick Derringer and his wife own artwork from The Victor-Hugo Collection.