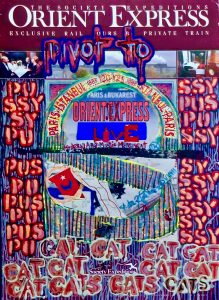 "Orient Sexpress" by Victor-Hugo Vaca II.
Size: 20 x 30
Date: October 11, 2016
Medium: Oil, acrylic, Graffiti marker, adhesive art, on vintage poster, in matted frame.
Modern-art-gonzo-journalism mixed-media painting triptych titled, "Fake Feminists Enable Weinstein Comey Clinton Machine As Trump Pivots US To Asia", by the Maverick Artist Victor-Hugo Vaca II from "The Deplorables Series".