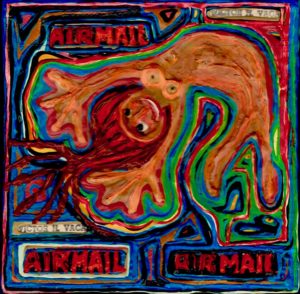 "Serial Killer Song." By Victor-Hugo Vaca II.
Size: 4 x 4
Date: May 11, 2016.
Medium: Oil and acrylic on canvas.
The opening scene of the independent, award-winning, 72-Hour Film Competition, "Crackhead Jesus: The Movie", features an homage, to Quentin Tarantino's infamous torture scene, in the cult classic,"Reservoir Dogs".  In collaboration with the lead singer of deSol, Victor-Hugo Vaca II wrote the lyrics for and produced "Universal Lover", an upbeat, latin-flavored-rock song, performed by Albie Monterrosa, featured in the film soundtrack. The infectious song plays on the radio, as the serial-killer spinal-surgeon manifests dirty deeds, in his killer art gallery.