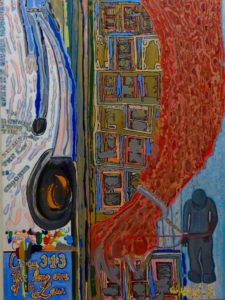 "The Story Of Alleged Serial-Killer Doctor Charles Edwards; Or, Capicua 3:1:3- The Long Arm Of The Law." By Victor Hugo Vaca II.
Size: 36 x 48
Date: March 3, 2005
Medium: Oil and acrylic on canvas.
"Crackhead Jesus; The Movie", shot, scored and edited in 72 Hours, as part of the Delray Beach Film Festival (DBFF) marathon, movie-making competition.