Limited Edition Artist Prints on canvas, personally embellished by Victor-Hugo Vaca II are in the private collections of Don King (Boxing Promoter, Trump Supporter), Nelson Lewis (Fox News guest greeter, Laura Ingraham Show producer and Minister Plenipotentiary for Artistic Endeavors for the Embassy of the Bahamas), Dave Wakeling (Frontman for the English Beat and General Public) and Robert Sadler (Wall Street Mogul). The original painting is still in The Victor-Hugo Collection.
Size: 28 x 52
Date: January 22, 2005
Medium: Oil mixed with DNA sperm of artist on canvas to authenticate.
NY Arts / China Arts featuring Victor-Hugo Vaca II exhibiting with Jeff Koons at The Broadway Gallery In Soho, Manhattan, New York. Feb. 2006 Article by Kate Hickey.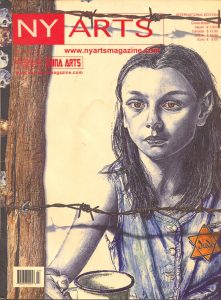 MAVERICK ARTIST VICTOR-HUGO VACA JR WITH JEFF KOONS IN NY ARTS MAGAZINE/CHINA ARTS Excerpt from Kate Hickey article titled, "Continue To Descend." featuring "The Three Muses" by Maverick Artist Victor-Hugo Vaca II on the top right corner of the page: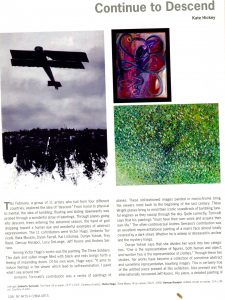 "This February, a group of 11 artists who hail from four different countries, explored the idea of "descent." From moral to physical to mental, the idea of tumbling, floating and sliding downwards was probed through a wonderful array of paintings. Through planes going into descent, trees entering the autumnal season, the hand of god dropping toward a human eye and wonderful examples of abstract expressionism. The 11 contributors were Victor-Hugo Vaca II, Jeff Koons, Umberto Torricelli, Bata Musicki, Dylan Farrell, Kai Lintumaa, Duriye Yuksel, Trey Reed, Gencay Kasapci, Lucy DeLange and Andrea Serrano.
As seen in the feature length action drama, "The Last Hit" available on Hulu, Amazon and on DVD.