"Eloise" By Victor-Hugo Vaca II
Size: 48 x 24
Date: March 25, 2006
Medium: oil/acrylic/stencils/graffiti marker on vintage poster.
In the private collection of The Geddes Family (Toronto, Canada) Oliver Geddes International Nightclub and Restaurant impresario (Money, This is London, Easy and The Fifth).
Exhibited at the exclusive 2007 Miami Art Basel Week, "Crackhead Jesus Exhibit", as seen on television and print newspapers (Miami Herald, New Times, Sun Post).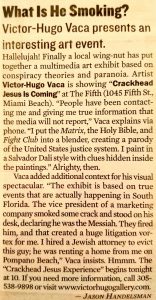 Miami New Times Art Basel Issue Article Highlighting the modern-art-gonzo-journalism of Victor-Hugo Vaca II.
The controversial modern-art-gonzo-journalism interactive Modern Art Music Movement Happening drew record crowds at the world famous South Beach, Miami, venue and was extended through Christmas and New Years, for five weeks after Art Basel, due to sold out crowds and popular demand.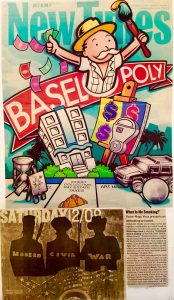 Miami New Times 2007 Art Basel issue features Victor- Hugo Vaca II impactful solo exhibit and Modern Art Music Movement Happening.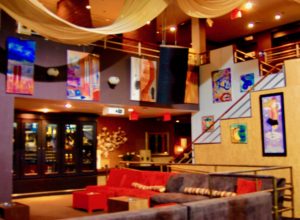 Victor-Hugo's Modern Art Music Movement™ Happening during Art Basel Miami Week at Oliver Gedde's exclusive, world famous venue, "The Fifth", was hosted by South Beach nightclub impresario, Gerry Kelly, and was attended by a who's who of sports figures, musicians and A-list celebrities including Paris Hilton, Victor Calderone and Academy Award Winner, Mickey Rourke.