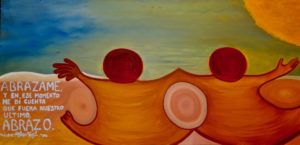 Size: 24 x 48
Date: 2003
Medium: Oil on canvas.
Exhibited at The Red Show with over five-thousand people in attendance as reported in the Sun Sentinel and The New Times.
R.E.D. PARTY FAT VILLAGE ARTWALK @ C&I STUDIOS FEATURING THE MAVERICK ARTIST VICTOR-HUGO
FORT LAUDERDALE FAT VILLAGE
MAVERICK ARTIST VICTOR-HUGO WILL MAKE A SPECIAL APPEARANCE TO PREMIERE, "THE HYPOCRISY OF PHILANTHROPY", IN SUPPORT OF SICKLE CELL AWARENESS
Acclaimed Contemporary Abstract Expressionist, Victor-Hugo Vaca Jr to premiere his most recently completed work of art entitled, "The Hypocrisy of Philanthropy" for sale to benefit The Sickle Cell Natural Wellness Group. A sure-to-be highlight of the F.A.T. Village Artwalk, C&I Studios @ 541 N.W. 1st Avenue, Fort Lauderdale, hosts "The R.E.D. Show" Saturday, September 27th, from 7pm-1am.
The Maverick Artist Victor-Hugo, known for his provocative social activism, will take the stage to discuss the need for society to practice compassionate wealth. His exhibition will include, "The Jolly Couple", available for preview and purchase, with proceeds to benefit SCNWG, to help those with sickle cell anemia.
Meet the artist labeled by experts as one of the most important contemporary art voices of our time; the artist Fox News called "The Modern-day Andy Warhol" and ABC's Club TV dubbed, "The Howard Stern of the Art World". See the video collaboration of Neal Fox (CBS, Sony) & Maverick Artist Victor-Hugo that premiered during the Winter Music Conference (WMC). The evening's festivities include a Fashion Show, more fabulous art and Beverage concessions. September is Sickle Cell Awareness Month.