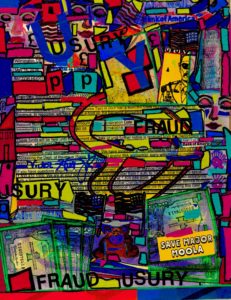 "'Kermit Gosnell Is My Hero', Said The Alleged Serial-Killer Spinal-Surgeon, To His Transgender Secretary, Outside A Bank Of America, In The Bible Belt, Before He Fired Her/Him, For Being Racist, Pro-Life And Voting Donald Trump." By Victor-Hugo Vaca II.
Size: 8.5 x 11
Date: March 29, 2016
Medium: Duct tape, graffiti markers, mixed media on Bank Of America statement.
Created with children, to teach compassionate wealth, for seven generations forward.
The Guinness Book Of World Records should look into whether this is the longest title for a work of art.