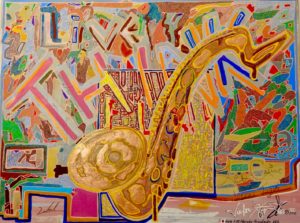 "Think Sax." By Victor-Hugo Vaca II.
Size: 36 x 48
Date: May 2, 2010
Medium: Oil and acrylic on canvas.
Modern Art Music Movement™ Rock And Roll Memorabilia signed by Sax legend, Leo Casino, Opera Singer, Joanne Togati, Brain Surgeon, Dr. Lee Harvey Freedman and the Maverick Artist Victor-Hugo. Manifested on stage in front of a live audience at the All People's Day Delray Beach Music Festival.