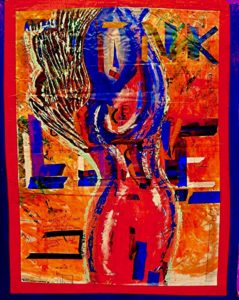 "Think Love Muse." By Victor-Hugo Vaca II.
Size: 18 x 24
Date: December 5, 2009
Medium: Oil, acrylic, spray paint, adhesive duct tape graffiti on Veterans Hospital building plans, high-grade architectural paper.
As reported December 3, 2009 in first paragraph of Miami New Times article titled "Three Days, 75 Shows, 600 Hours Of Music" by Sean Pajot.
"Unlike most massive weekend-long smorgasbords of tuneage, the three-day Miami Music Festival is almost entirely focused on the local scene. With the exception of a few bands such as Greenpoint, New York's Big Suga, the festival will be presenting 75 separate shows packed with 600-something individual sets by South Floridian artists repping every permutation of Miami music from hip-hop to Latin to indie, and beyond."