Rebuke Of Obama's, "Anti-American Action", Marks Historic Victory For September 11 Victims And Conspiracy Theorist's, Seeking To Uncover The Truth, Behind The 9/11 Attacks On U.S. Soil, In 2001.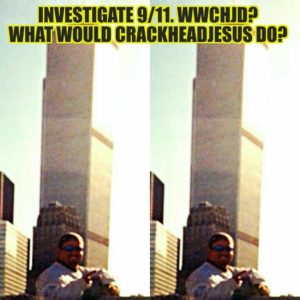 Thanks to pressure on government officials from alternative news outlets on the internet and public pressure from constituents and voters, as documented, in the modern-art-gonzo-journalism, fine-art, "9/11 Series" of paintings, the mysterious shroud of secrecy, behind what really happened, on September 11, 2001, often referred to as, "Conspiracy Theory", by weak, neutered, investigative-journalists, working under severe editorial constraints, will finally be unveiled, in Court, to become historical archives for public consumption and universal introspection.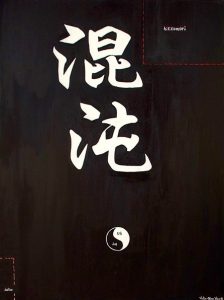 "CHAOS", MODERN-ART-GONZO-JOURNALISM, BY THE MAVERICK ARTIST VICTOR-HUGO VACA II.
On September 28, 2016, The United States House of Representatives and The U.S. Senate, overwhelmingly handed the Commander In Chief, his first veto defeat, when they voted against President Obama's attempt, to deny 9/11 victims and U.S. Citizens the right to pursue justice for acts of terrorism, committed in collusion, with terrorists, allegedly disguised as allies and home-grown terrorists, that have allegedly infiltrated the U.S. Government and creeped into the halls of the United States Justice system, spewing corruption and treason all the way up to and including, the hallowed White House, to the extreme and perilous detriment of all U.S. and civil society interests, in allegedly, knowingly, hiding and abetting, high level, foreign and domestic plots, to crush Democracy, destroy lives and kill millions of people in the New World Order.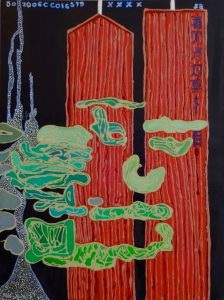 "SEE PAST THE TRUTH", MODERN-ART-GONZO-JOURNALISM, BY THE MAVERICK ARTIST VICTOR-HUGO VACA II.
The modern art graphic iNovel, "Redemption: The Story Of The Crackhead Jesus Trials", documented, in modern-art-gonzo-journalism storyboard narration, some of the more plausible conspiracy theory and documented doubts regarding, the Twin Towers and surrounding World Trade Center Building implosions, including the infamous explanations for Building 7, which most mainstream news outlets failed to take seriously, by not producing any substantial probing reports or investigative journalism, to debunk the false narrative force fed to the 9/11 victims families and to the unconvinced and dwindling audience of newspaper and cable news network subscribers, that have declared an all time historical low, in public trust of news media, according to a 2016 Gallup poll.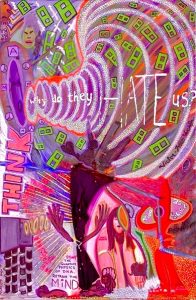 "WHAT I SAW ON 9/11: WHY DO THEY HATE US?" MODERN-ART-GONZO-JOURNALISM BY THE MAVERICK ARTIST VICTOR-HUGO VACA II.
The 9/11 Series was created in honor of those lives lost on September 11th, 2001 and the legacy of the loved ones they left behind, who vowed to "never forget". Immortalizing those words in works of art, honors the legacy and passion of those outliers and conspiracy theorists who are unwilling to settle for the status quo answer of, "Move on, Folks, there's nothing to see here.", while staring at the glaring inconsistency between what is being witnessed and what is being reported to citizens, as fact, by weak mainstream media news outlets in collusion with government information networks.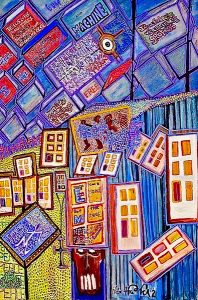 THIS WORK OF MODERN-ART-GONZO-JOURNALISM, "TITLED 9/11 DACHAU", PREDICTED THE TERROR THREAT GERMANY IS NOW EXPERIENCING WITH THE IMMIGRATION CRISIS. (24X35) OIL PAINTING BY THE MAVERICK ARTIST VICTOR- HUGO VACA II.
According to top physicists and scientists, official explanations for what happened to make skyscrapers, implode in Manhattan, at the World Trade Center, on September 11, 2001, defies the known laws of natural physics and statistical probability.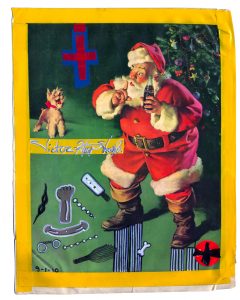 CHRISTMAS GREETING TITLED, "HAPPY EASTER", CREATED BY THE MAVERICK ARTIST VICTOR-HUGO VACA II. THE WORK IS FILLED WITH NUANCES, NOT LEAST OF WHICH IS THE IRONY THAT SANTA CLAUSE, A TRUTH FED BY ADULTS TO TRUSTING CHILDREN, IS STEPPING ON THE TWIN TOWER CONSPIRACY THEORIES SURROUNDING WHAT REALLY HAPPENED ON 9/11 AT THE WORLD TRADE CENTER IN NYC. THE IMAGE IS SENT OUT EVERY YEAR AS A HOLIDAY GREETING TO FRIENDS AND ASSOCIATES OF THE MAVERICK ARTIST, IN LOVING MEMORY OF THE 9/11 VICTIMS AND TO HONOR THEIR FAMILIES, IN FAVOR OF THE "NEVER FORGET" PHILOSOPHY.
The inexplicable implosion of World Trade Center Building 7, which allegedly was reported to the public by certain news outlets as having occurred, before it even happened, is described as "conspiracy theory", by untrusted news media outlets that ignore evidence and facts in favor of copy and paste journalism, while working in collusion with corrupt government officials to mislead naive U.S. Citizens using rhetoric and hyperbole.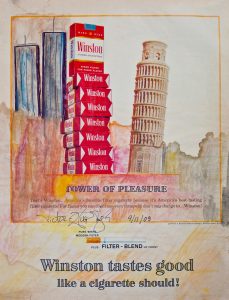 MODERN-ART-GONZO-JOURNALISM BY THE MAVERICK ARTIST VICTOR-HUGO VACA II EQUATES THE LIES TOLD BY TOBACCO COMPANIES TO THE LIES BEING TOLD BY U.S. GOVERNMENT AND PRESS, TO ALL U.S CITIZENS, REGARDING THE TRUTH BEHIND WHAT REALLY HAPPENED ON SEPTEMBER 11, 2001.
Proponents of 9/11 conspiracy theories claim there are inconsistencies in the official conclusions from government investigations and evidence that was either ignored or overlooked by, "cut and paste reporters", who claim to be, "investigative journalists", working in an era when public trust in news media, is at an all time low.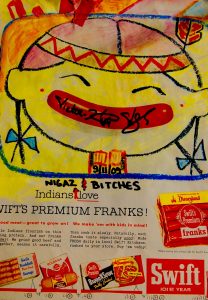 "MR. ANTHONY WEINER, PRESIDENT BARACK HUSSEIN OBAMA, IS TECHNICALLY, BY DEFINITION, NOT THE FIRST BLACK PRESIDENT AND THE UNITED STATES OF AMERICA WAS FOUNDED ON GENOCIDE AND SLAVERY." THIS WORK OF MODERN-ART-GONZO JOURNALISM WAS CREATED BY THE MAVERICK ARTIST VICTOR-HUGO VACA II TO STATE THE OBVIOUS AND COUNTER THE DUMBING DOWN OF AMERICANS AFTER THE 9/11/2001 ATTACK ON U.S. SOIL.
Four in 10 Americans trust mass media. "The Lied To Generation" are even less likely to trust newspapers, TV and radio, as documented in the censored, politically incorrect, works of modern-art-gonzo-journalism by the maverick artist Victor-Hugo Vaca II.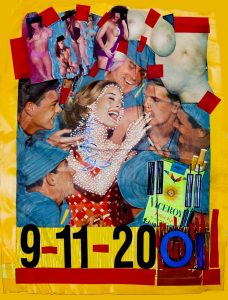 "MIDGETS, CIGARETTES, GANG RAPE AND THE WORLD TRADE CENTER FALLACY: HOW NEWS MEDIA DUMBED DOWN AMERICA USING SEX, SIN AND VICES TO DISTRACT AUDIENCES FROM COMPASSIONATE WEALTH AND REAL THREATS TO DEMOCRACY." MODERN-ART-GONZO-JOURNALISM BY MAVERICK ARTIST VICTOR-HUGO VACA II.
"Why a Commander In Chief, elected to protect and serve the best interest of a nation and its people, would vote against the best interest of its people, is anyone's guess but history will show, that on "Obama Veto Day", the U.S. government shifted in the right direction and began working, for the people, again." – Maverick Artist Victor-Hugo Vaca II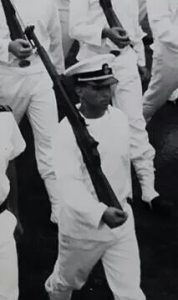 UNITED STATES NAVAL ACADEMY MIDSHIPMAN OFFICER VICTOR-HUGO VACA II, MARCHING WITH RIFLE, AS PART OF PLATOON 26, ON THE HISTORIC, WORDEN FIELD.