Modern-Art-Gonzo-Journalism Forecast Civil Unrest In America, Fueled By A Breakdown In Public Trust Of Justice System, Government Leadership And Biased News Media, As Seen In New Times 2007 Art Basel, "Crackhead Jesus Is Coming Exhibit", Article.
In 2007, the Miami New Times, Art Basel issue, featured an article titled, "What Is He Smoking? Victor-Hugo Vaca (II) presents an interesting art event."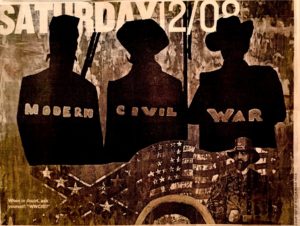 MIAMI NEW TIMES, 2007 ART BASEL ARTICLE, HIGHLIGHTS THE LEGENDARY "CRACKHEAD JESUS IS COMING" MODERN-ART-GONZO-JOURNALISM EXHIBIT, CREATED BY MAVERICK ARTIST VICTOR-HUGO VACA II, THAT WARNED THE WORLD, OF AN IMPENDING MODERN CIVIL WAR IN AMERICA, FUELED BY PUBLIC DISTRUST IN NEWS MEDIA AND U.S. GOVERNMENT LEADERSHIP.
The controversial Art Basel Miami week exhibit, manifested by the Maverick Artist Victor-Hugo Vaca II, as a warning to the world, was witnessed by over ten-thousand global citizens.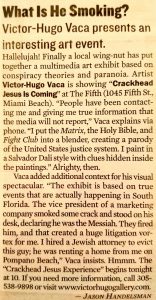 DUE TO POPULAR DEMAND AND SOLD OUT CROWDS, THE "CRACKHEAD JESUS IS COMING EXHIBIT" WAS HELD OVER FOR FIVE WEEKS DURING THE 2007 CHRISTMAS SEASON.
The Maverick Artist Victor-Hugo Vaca II, modern-art-gonzo-journalism exhibit, was the largest and most attended, solo artist show, during the 2007 Miami Art Basel week.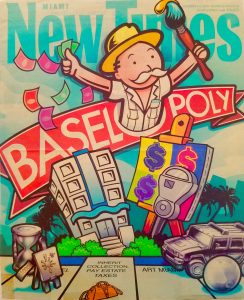 THE INTERACTIVE "CRACKHEAD JESUS IS COMING"EXHIBIT PROPHESIED THE NET EFFECT OF NEWS MEDIA DUMBING DOWN MINORITIES TO INCITE A MODERN CIVIL WAR FOR PROFIT AND RATINGS.
Millennials and minorities with critical thinking skills trust modern-art-gonzo-journalism to predict the future being created by bias mainstream media outlets that censor news and which, in a recent Gallup Poll, have reached an all time low of public trust.

THE ART BASEL MIAMI WEEK EXHIBIT FOREWARNED THAT A BROKEN AND CORRUPT U.S. JUSTICE SYSTEM WOULD HAVE A BUTTERFLY EFFECT LEADING TO A MODERN CIVIL WAR IN AMERICA.
The elaborate multi-media event created by Maverick Artist Victor-Hugo Vaca II to warn people that, no justice equals no peace, was widely ignored by the mainstream media, offended by the censored "Crackhead Jesus Exhibit" title, but embraced by thousands of people who distrust biased mainstream media and corrupt government.
THE "CRACKHEAD JESUS EXHIBIT" PROGNOSTICATED THE AGE OF DONALD TRUMP AND HILLARY CLINTON IN THE NEW WORLD ORDER FOR THE UNITED SLAVES OF AMERICA.
Blacks and Hispanics, in spite of their oppression in the broken United States education system, are not stupid. Minorities realize that the racist term, "African-American", perpetuates a false narrative. The African-American myth perpetrated by biased mainstream media and pandering U.S. government leaders, is used to dumb down Americans into falsely believing that, all African-Americans are black.  The truth being ignored is, that just as not all Asians are Chinese, not all African-Americans are black. In fact, some white African-Americans are from South Africa and lived through Apartheid, which was fueled by racism and based on Nazi principles.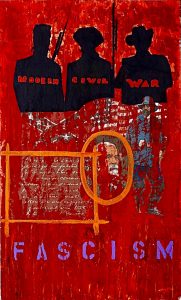 THE TERM, "AFRICAN-AMERICAN" IS A RACIST INSULT TO ALL AMERICANS BECAUSE IT ASSUMES ALL AFRICANS ARE BLACK AND CREATES ANIMOSITY BETWEEN BLACKS AND WHITES WHO ARE ALL, REGARDLESS OF COLOR, UNITED SLAVES OF AMERICA.
"Why does the media continue to ignore the fundamental problem of what is transpiring in our once great nation? The lack of clear oversight for those who set the standard of competency and ethics for lawyers in the state of Florida and in other states is creating a tsunami of global distrust for U.S leadership and lawmakers who have a special rule of law for the privileged like, Hillary Clinton and O.J. Simpson, and another set of rules and laws for everyone else."
– Victor-Hugo Vaca II